Shalin composites India Pvt. Ltd., is a multifacted engineering company engaged in to manufacturing of FRP / Composite equipement including FRP strainers, cartridge filter housings, FRP PRessure vessel, RO membrane housings, FRP tanks, FRP blower, Static mixers which are widely used in water, Waste water & desalination plants as well as chemical, fertilizer & steel industry.
About Us
What happens, when you do one thing for more than a decade………. you get good at it.
Shalin composites India Pvt. Ltd. is an outcome of a decade old dream of our passionate promoter who wanted to set up a world class manufacturing facility for making high quality Composite Equipments for Water & Desalination industry. With a modest beginning through our parent company ( D.M. Engineering Co.) in 2002, we have grown by leaps and bounds. Today we have an enviable list of clients, from more than 15 countries, including many public, private sector majors and govt. run companies. With shalin composites as our new establishments, we are determined to be the game changer in the composite industry.
With a team of qualified and highly experienced professionals having sharp engineering acumen, we aim to offer more and more innovative products for water & desalination industry worldwide. Our design, engineering knowledge & manufacturing expertise coupled with decades of experience in composite equipment, makes us a preferred global choice for all critical desalination equipment in FRP(Composite) and an essential collaborator beyond a simple supplier of equipment.
Our DURASHELLR range of Composite pressure vessels are manufactured on highly sophisticated CNC controlled automatic machines promising same repeatability and precision quality over wide range of models.
Our ROLINER Range of pressure tubes are manufactured using high strength Glass Fiber in combination with high quality Epoxy resin which forms an extremely strong composite tube.
All DM plants or RO plants require bulk acid/alkali storage & dosing tanks. At SCIPL we have the expertise to offer customized tanks on turnkey basis including civil work, suiting to your site requirement.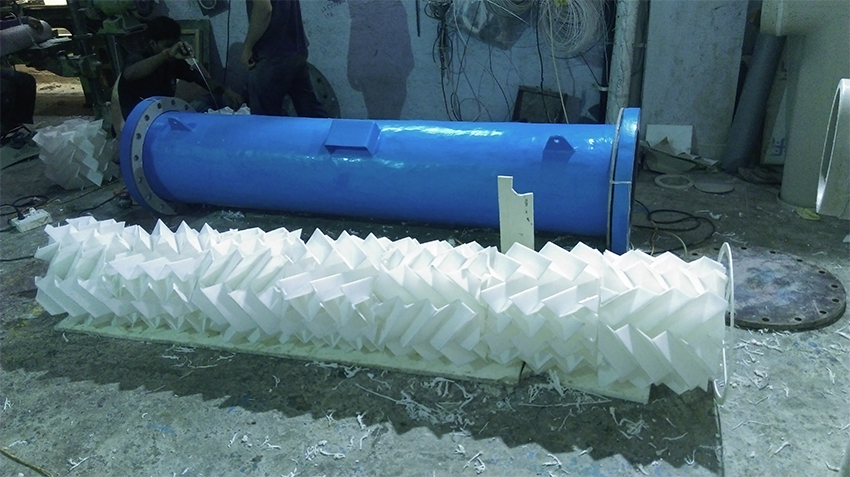 We offer wide range of static mixer particularly used for mixing of many chemicals or additives to water & waste water. typical applications include Mixing of polyelectrolyte, SMBS, coagulant, Alum, FeSo4, acid...
FRP blowers are widely used in all chemical industries were corrosive gases are to be handled. We manufacture FRP blowers up to 60 HP rating having all wetted parts in FRP /PP.
We offer customized Degassifier towers & Scrubbers along with blower entirely fabricated out of PP/FRP MOC thus giving trouble free operation in corrosive areas. We also offer DG sump made out of FRP for storing the degassed water.
Covered Factory area : 7500 Sq. ft
Factory height : 32.8 ft
Total Plant area : 52000 Sq. ft
Laboratory area : 150 Sq. ft
Office area :1200 Sq. ft
Location :Palghar, @19.7173923,72.7735478